The Shootist Holster:
The Shootist. I wanted a traditional looking holster that worked with modern 1911s and had practical aspects to it. I am really fascinated by Brill's fine holsters made for Southwest lawman in the middle of the 20th Century. I also like the simplicity of the traditional Mexican Loop style holster. Combining those aspects, we came up with a compact little little high-ride holster that looks good and works great.
A deceptively simple holster that looks traditional yet has advanced retention features. It is a comfortable field or range holster that can be concealed. It rides at a neutral cant for a smoother draw.  This is made for your pant belt; either 1.5″ or 1.75″ belts will work (The holster is not made to fit wide 2.25″ or 2.5″ belts). We tested these at Gunsite with 20 people, they work! Available for 1911 Commanders and Government Model 1911 & Browning Hi Powers .
Editor's Notebook: Ancient Weapons?
Simply Rugged's new holster, the Shootist, has elements of old and new. The design pulls the gun in close to your side.
Rob Leahy, proprietor of Simply Rugged Holsters – formerly of Alaska and now of Chino Valley, Ariz., and his media/sales guy Bruce Warren were discussing how good it would be to get the company employees some handgun training. They make holsters, it's kind of important to know how these things will be put to use. They discussed this with a Gunsite Range Master, Ed Head, and between them considered it might be a good idea to have some writers come out and try the gear at the same time.
Buz Mills is always a genial host and his facility, Gunsite, is a premier training institution. With all the training done on-site, he's still willing to have media and product test events at the old home of the American Pistol Institute. Ruger is nearby and they make guns, HPR Ammunition is in Payson and they make ammunition. Crimson Trace was willing to provide Lasergrips and Lightguards for the guns – Simply Rugged makes holsters to fit guns so equipped – and Streamlight sent some handheld illuminators as well. Militec-1 provided the lube for the guns.
The guns were SR1911 Model 6702, the "Commander" variant. Ruger did it right with a 4 ¼" barrel length allowing the "conventional Commander" recoil spring/plug/barrel bushing combination. The match grade stainless barrel is made together with the bushing and both components travel together through the manufacturing and assembly process. The plunger tube is integral to the frame. Before anyone says "but you can't replace it," when was the last time you crushed a plunger tube and necessitated replacement? A slightly extended magazine release button helps those with a short thumb, the safety is slightly over size and extended (enough so that southpaws used these guns without starboard safety levers) and the beavertail grip safety has the extended bump at the base. I didn't fail to completely depress the grip safety once in about 500 rounds.
Rob issued each of us a copy of his Laminated belt, the Dual Defender Magazine Pouch and his new creation, the Shootist Holster. The belt was quite stiff as issued and wore in quickly over three days. The Dual Defender covered the magazines up to about 2/3 of the way, possibly leading some to believe they were secure but slow.
Reloads were practiced extensively. The Simply Rugged leather gear was plenty fast enough to get the job done.
The Shootist is retro. With qualities of the old A.W. Brill holsters made for peace officers of the Southwest and a design in some ways similar to the Mexican Loop holster that preceded them, the Shootist is made of Hermann Oak Leather and formed with a peculiar belt loop arrangement. Between the tanning process of the leather, making it nearly the equal of horsehide in stiffness, and the form of the belt loop, the holster brings the gun in tight to your side. It's no deep inside-the-waistband concealment rig, but it will work for casual concealment as well as being a great field and range holster.
Being old-fashioned, it'd have to be slow wouldn't it? When coupled with the high-cut Dual Defender magazine pouch, it'd be tough to be quick, right? Don't ask me. I shot the El Presidente clean – cold – on the morning of the third day. That requires, among other things, a draw and speed load. I won the shoot-off, also requiring a draw and mandatory speed load, the same day.
I guess it's quick enough.
The old and the new: a 1911 with an old style holster — with Crimson Trace Lasergrips on the gun. This was the new green laser.
The importance of innovation in design and manufacture can't be understated. We were using 1911s, true, and new holsters with old styling. The ammunition, which I also give high marks, relies on innovative manufacture as well. What's old is new – when we approach with problem with fresh eyes and an open mind.
If you like leather holsters and support gear, you need to take a look at Simply Rugged Holsters. My fondness for the gear started when I saw that Rob was re-creating and updating the Roy Baker "Hidden Thunder" Pancake rigs. But he does so much more.
Put that together with Ruger guns and the outstanding experience at Gunsite and you have a real week to remember.
http://www.thetacticalwire.com/features/229115
"Slowly, Reluctantly, Holster Your Firearm."
Dave Hartman, Marine /LEO Gunsite Instructor: Range commands after a drill: "Slowly, reluctantly, holster your firearm." BEST advice on holstering a gun I have ever heard. Slamming the gun home is a good way to end up with a couple extra holes in your leg. Slamming the gun home into the holster is the sign of a rank amateur. While running the clock on night the guy I was timing did quick run on plates and slammed his 1911 home (in a cheesy paddle holster, no less) with his finger still on the trigger. The round hit about 6 inches from my left boot. about 6″ too close. Yep, I levitated about a foot in the air. He was DQ'd and sent home. Slowly, reluctantly, scan your surroundings and safely slide that gun into it's holster.
The Simply Rugged Cuda is a combination inside-the-waistband (IWB) / outside-the-waistband (OWB) holster. By combination, I mean you can easily convert it from one to the other. Other designs on the market allow you to perform this exorcism by screwing and unscrewing clips or gun pouches or whatever. The Simply Rugged Cuda design has the conversion capability built-in – with no reconfiguration required. More Here  http://mygunculture.com/holster-review-simply-rugged-cuda-iwb-owb-holster/?awt_l=FPeKQ&awt_m=3imKRUl7.XV0zuP
To para phrase Col Cooper: the Paddle Holster is a answer to a question nobody asked…
Q: Do you make any of your holsters with a paddle. I have a sig scorpion carry. 4.25in and just want to be able to wear it over my existing belt and pant. I don't want to loop it through any belt at all.
A: No, paddle holsters usually stick out too far are weak and uncomfortable. I have addressed all these shortcomings with my pancake holsters in conjunction with my patent pending Inside the waistband strap. The body of the comfortable leather holster goes either inside the waistband or between the belt and pants and the secure leather straps snap around the belt. This creates a fast and easy to take on and off comfortable carry system. I carry my 1911s this every day.
Rob
=================================================
Oleg Volk, one of the best photographers in the gun business has been kind enough to include some of my gunleather in his photos for Kel Tec
http://networkedblogs.com/WTmqN
==============
The Cumberland pancake holster Many folks are flocking to the plastic/leather combo holsters at the moment. While this is a popular fad, we like the all leather clip on holster, for it's added strength and durability as will as it's comfort and quality.The Cumberland Pancake holster can quickly be put on your belt or even be used without a belt it can be worn on the belt or inside the waistband the holster is also easy to use as a tucked in deep concealment holstyer . A great way to carry concealed with a tucked in shirt.With the belt slips one can tuck the shirt right in over a holstered gun and conceal the gun and holster in the corporate environment.
=================================================================================
  Many of my friends grew up reading about and wanting their version of the guns Skeeter Wrote about.
I know I have purchased many firearms, just because  Skeeter wrote so eloquently about them.
My friend and fellow Shootist &  Skeeter Skelton fan, Matt Olivier, put this old Colt New Service together to commemorate a great story, great characters and a  great writer, Skeeter Skelton. This article was published first in Shooting Times regular monthly magazine , then in 1980 or so, in a compilation annual entitled: Skelton on Handguns... When I discovered this during a weekend of running around the Grand Canyon, Flagstaff & Sedona, then back home to Prescott, I was completely captivated by the stories therein. I know I was no longer interested in red rocks and good company…the I had read some of them in the monthly magazines. BUT WOW! The amazing group of stories just got better and more enthralling the deeper into the pages I read.  "Bustemonte, I Hate You!" Tales of Dobe Grant, a compilation of southwestern characters Skeeter knew, Stories of Me & Joe…(Mirrored my youth, in Chino Valley, AZ ) I encourage you to seek out and find these stories, they are wonderful, educational and entertaining…and they can be expensive!

  "This is the Colt New Service 45 ACP that Dobe sent to Sedgley in Joplin, MO before he shipped out to the South Pacific with the Seabees, lying about his age, after his only son was killed in the war. Dobe ends up getting shot at, and attacked, by Japanese soldiers while bull-dozing a runway on an island and kills a few of them with his gun.
    I decided a few years ago to duplicate this gun. It took me a while to find the right base gun but it finally popped up on Gunbroker about 18 months ago. I sent it to Alan Harton in June of last year and I just finally got it back. Being a 45 Colt fan, I opted for that caliber instead of the ACP, other than that, I tried to keep it as close to Dobe's gun as possible.
The gun came with a 4″ ribbed barrel with a ramp front sight, already in 45 Colt (barrel stamped 45 LONG COLT – definitely a Jug Johnson stamp ). I had Alan install a drift adjustable rear sight, lanyard, ejector rod button, action job, bob the hammer and sight it in with a 250gr LRNFP over 8gr Unique. He sent me a few pictures after he sighted it in, with a simple "This gun really shoots".
I thought I would share with you guys…"
The story Skeeter Wrote that features a custom Colt 1917. this gun is entertaining and poignant. It contains the tale of men too old to go to war that found ways to get there and do their part…"Old Fletch? He stayed on Tinian."
=======
Finding Skeeter Skelton's stories is difficult and expensive, these days: Amazon and Gunbroker are your best bets for Skeeters annuals, put together by Shooting times. Maybe shooting times online version archives or The wayback machine online archives, And used version of Skeeter's hard copy books compilations of his great articles and stories. Good Friends, Good Guns and Good Whiskey, Hipshots and Jalapenos & I remember Skeeter are collectors items, but well worth the going rate of $100.00 +/-
=====================================================
Gun free? Not me!
I make no apologies; Get trained Go armed. Man's laws or signs or rules or corporate policies will not keep you safe from bad men with a will to kill.
Current Projects A compact, covered belt holster for Aimpoint's RMR sight mounted on autos and revolvers.
We have picked up several more small dealers in the greater Phoenix Area and other states around the US.
If you have a small shop and want to carry Simply Rugged Holster's line of durable leather goods give us a call or send an e-mail.
=================================================
The most prestigious person we have ever built a holster for: Col hal Fritz, MOH:
"I just received my silver dollar pancake holster for my Ruger LCR. This is a great quality holster that meets my every expectation, the holster is exactly as advertised, and the price for a quality leather custom fit holster is more than reasonable. Great product, looks great, holds the revolver in a very concealable position, and allows for a quick weapon draw when needed. I am a very satisfied 1st time customer that would not hesitate to recommend your holsters to any of my associates. I researched many available holsters, most of which did not appear to fit the requirement or were too pricey to be acceptable. As a former Army Officer I compliment you on your quality and customer oriented focus regarding your line of holsters. Harold "Hal" Fritz Medal of Honor Recipient "
This just humbled me ….charged the enemy with a pistol and a bayonet after being wounded…
I had to do some research:
Army-Vietnam Medal of Honor citation
Captain Fritz's Medal of Honor citation reads:
For conspicuous gallantry and intrepidity in action at the risk of his life above and beyond the call of duty. Capt. (then 1st Lt.) Fritz, Armor, U.S. Army, distinguished himself while serving as a platoon leader with Troop A, near Quan Loi. Capt. Fritz was leading his 7-vehicle armored column along Highway 13 to meet and escort a truck convoy when the column suddenly came under intense crossfire from a reinforced enemy company deployed in ambush positions. In the initial attack, Capt. Fritz' vehicle was hit and he was seriously wounded. Realizing that his platoon was completely surrounded, vastly outnumbered, and in danger of being overrun, Capt. Fritz leaped to the top of his burning vehicle and directed the positioning of his remaining vehicles and men. With complete disregard for his wounds and safety, he ran from vehicle to vehicle in complete view of the enemy gunners in order to reposition his men, to improve the defenses, to assist the wounded, to distribute ammunition, to direct fire, and to provide encouragement to his men. When a strong enemy force assaulted the position and attempted to overrun the platoon, Capt. Fritz manned a machine gun and through his exemplary action inspired his men to deliver intense and deadly fire which broke the assault and routed the attackers. Moments later a second enemy force advanced to within 2 meters of the position and threatened to overwhelm the defenders. Capt. Fritz, armed only with a pistol and bayonet, led a small group of his men in a fierce and daring charge which routed the attackers and inflicted heavy casualties. When a relief force arrived, Capt. Fritz saw that it was not deploying effectively against the enemy positions, and he moved through the heavy enemy fire to direct its deployment against the hostile positions. This deployment forced the enemy to abandon the ambush site and withdraw. Despite his wounds, Capt. Fritz returned to his position, assisted his men, and refused medical attention until all of his wounded comrades had been treated and evacuated. The extraordinary courage and selflessness displayed by Capt. Fritz, at the repeated risk of his own life above and beyond the call of duty, were in keeping with the highest traditions of the U.S. Army and reflect the greatest credit upon himself, his unit, and the Armed Forces.[2]
New Product and new skin a 12 gauge x 2 snap over ammo pouch allows for quickly adding spare ammo for one's shotgun.
We will offer these initially in 12 & 20 gauge, we may offer these in rifle calibers and .410 as well.
Look in our Ammo Pouches section for more details and to order.
Cape Buffalo! We recently found this ruggedly handsome two ton Cape Buff hide while wandering the back streets of Jo-burg, looking for trouble…(actually it was at a Leather  show in a Indian Casino…) It is visually striking and physically tough. Easy to work with, lion resistant, this buffalo hide will out last  you & me…
http://shop.simplyrugged.com/ecommerce/Cape-buffalo-Holster-Most-Versatile-belt-Made-to-order.cfm?item_id=429&parent=673
"Do you have a box full of holsters? Most of us do, but what if I told you there is a new holster that will save you money because it takes the place of four other holsters? The Defcon 3 holster by Simply Rugged Holsters can be used as a strong side or cross draw belt holster and is also the most comfortable and useful inside the waistband (IWB) holster I have ever tried…"
 http://www.downrange.tv/blog/the-defcon-3-from-simply-rugged-holsters/28511/
New Gun Models in the Line Up; G-41& 42 …
Adding the S&W M69, Ruger GP100 Match Champion revolvers to our list as well as Double Tap 45 & 9mm Derringers, Beretta M92A1, Colt XSP, Glock 41 & 42S… IF YOU DON'T SEE IT HERE, ASK US.
http://www.simplyrugged.com/gun-model-chart/
——————————————————————————
PRODUCTION TIME – 2 TO 3 WEEKS. 6 WEEKS FOR ORDERS THAT ARE CARVED.
I sell a lot of your holsters because I religiously carry my Sig 938 in a Cuda.  With just a T Shirt people can't tell I have a gun on until I show them how easily it is to conceal a gun in your holsters.
Thanks.
Jim Engel, Manager
The Great Outdoors Gun Shop
102 Grant St
Atwood, KS 67730
785-626-9100 Phone
785-626-9101 Fax
www.greatoutdoorsgunshop.com
===============================================================================================
Ed Head; "THE most comfortable, secure, fast, insideside the waistband holster…
Ed Head;
"THE most comfortable, secure, fast, inside the waistband (IWB) holster for the 1911 I have tried. This is the new Defcon 3 from Simply Rugged Holsters; made for a 5″ 1911 I can also use it for my lightweight Commander. The holster can also be worn as a strong side or cross draw belt holster, or with a chest rig. Highly recommended."
We were notified on Christmas Eve that there was a small booth available for us at the SHOT Show.
This came as a surprise as there is a waiting list to attend. We would need new catalogs, cards, price sheets, a display stand, hundreds of holsters, belt, , ammo pouches, shirts, lodging, transportation, set up, tear down, etc. With the help from some friends and professionals we made it and had a great display of several hundred holsters.
Many of our friends stopped by and we made lots of new friends and contacts within the industry.
We have been experimenting withe the Basic Cuda Pancake design. The results have been pleasing so far a clip on tuck-able re enforced mouth comfortable inside the waist band holster and a  re-enforced mouth belt and inside the waist band straps. This makes for a strong side and cross draw belt holster and a inside the waistband holster. Further it can be adapted to our Chester Puller System for chest carry.  The DEFCON 3 is versatile concealable and comfortable. One holster for many uses. starting at 85.00, it is very affordable.
Sown in it's on the belt configuration the DEFCON3 holster comes standard with our inside the waist band straps
DEFCON 3

===============================================================================
We are retiring the 120 from the regular line up. I started with it and the Sourdough. The Cattleman has really eclipsed the 120 essentially the same holster with more protection for the gun. The superior coverage and retention of the Cattleman approaches our Sourdough Pancake holsters.  If you want a Celtic of Floral tooled Tom Three Persons, they are 150.00. Send an e-mail and Rick Gittlein will turn out some of his excellent tooling and leather work for you.
===================================
If you are looking for the Long Hunter, you will find it in the Sourdough Holster line up. They are cut from the same patterns and only differ in the whether or not you want the toe of the holster sewn closed.
On shorter holsters we don't sew the toe shut to allow the easy passage of water and/or debris.
On the longer holsters there is a chance that while sitting on the ground, mud or snow may get into the open bottom (The toe) of the holster. Sewing it shut, as we do on the Long Hunter, precludes this.
We will probably consolidate the Loaded Option soon as well again; same patterns just different options.
========================================
I dread to even mention Christmas but, if you want a carved ot custom holster, don't wait until the the week before to order it.
4-6 week is the window for Celtic or floral tooled holsters…All of our standard holsters are currently availble in a 2-3 week turn around as of this week. We have some of our part timers going tio full time at the end of the semester, so we will have more help in the shop, leading up top Christmas.
BUT WAIT, there's more: we will have a limited amount of pre built tooled holsters available on the sale page that can ship and arrive before Christmas, if ordered before 18-19th of December within the US Including AK & HI.
====================================================
Got a hunt, class  or a qualification coming up and you have JUST got that new pistol you have wanted? Need some gunleather in a hurry? We have a sale page that we use to sell our pre made holsters.
These holsters will  ship the next shipping day, unless you order a custom item with it.  You will get a auto generated receipt if you give us the correct e-mail that is the standard receipt for all of out items. It will state the current custom order wait time of 2-3 weeks, for instance, but your ready made gear will actually go out the next mail day.
I try to update this page at least once a week. If you don't see what you need on the sale page shoot me an e-mail and ask me what we may have in stock.
http://shop.simplyrugged.com/ecommerce/SALE%20ITEMS.cfm?cat_id=673
Fish scale – PMR-30 holster
The Dual Defender Magazine Pouch
I have long admired Bianchi's old double mag pouch. It was flat and compact & looked good. I have made several style of dual mag pouches, even toyed with cloning Bianchis… I am dismayed to see that it is no longer offered.  I prefer to create my own designs. here it is Simple & Rugged flat & compact and not too bad looking;
This simple and rugged dual magazine pouch lays flat on the belt and can be easily snapped over the belt, with our very secure hard action snaps. The Dual Defender mag pouch takes up much less room on your belt than dos the CID dual pouch. A tension screw allows you to adjust the tension for your own needs.
I have been using the prototype for several months and it stays in place, even when bumping into door posts etc.
Available for a wide verity of service pistols. This makes a great looking tooled pouch as well. For deeper concealment you can flip the pouch around and slide it under your belt. This technique helps blend in the pouch under your covering garment.
http://www.popmodal.com/video/17219/Conservative-when-convenient%E2%80%A6-Intellectual-Froglegs-S2E7
http://intellectualfroglegs.com/obamas-amerika-darkness-falls-on-the-shining-city-ifl-s2e13/
https://www.facebook.com/photo.php?v=614242451940247
http://intellectualfroglegs.com/liberal-tyrants-and-conservative-helpers-s2e6/
I am updating almost daily on face book. (Yeah, I hate FB too!)
https://www.facebook.com/pages/Simply-Rugged-Holsters/142427562455074
I'm imploring you: read the FAQ Page BEFORE YOU CALL.
We will respond best by e-mail, calling us multiple times in one day is not helpful.
Many, many of you,  have never carried or even owned a gun before. Get trained, go Armed.   And no, a 1 hour of shooting with your ex cop brother in law is NOT proper training!
WELCOME! Enjoy your civil rights, but exercise them wisely.
==============================================================
Trending: 4″ N frames , 2.75″ Night guards, R8s, 5″ 1911s, Commander length 1911s, Sig Scorpions, Xds, Glock 19, Flat Tops in 44 Special, 3.75 Super Blackhawks, S&W M&P Shield. LCRs ,LCPs 2″ J, 2 & 3″ Sp101…We build for over 400 different guns. It may be easier to list what we DON'T build for…
"A big smile and a big gun beats a big smile anytime…"
Yes, We build for the R8 and the Thunder Ranch 325.
=========================================
Kristallnacht — 9–10 November 1938The demonization and persecution of an entire class of people as scapegoats for other ills of a society. We are on the verge of one here in America. Probably won't be many windows broken but tens of millions of people's rights will be trampled for something they had nothing to do with. Orchestrated by our "Leader" and his minions.The more things change, the more they stay the same. Those who fail to study history are doomed to repeat it.
http://en.wikipedia.org/wiki/Kristallnacht
=====================================
In Search of the Perfect Hunting Rifle
In search of the "perfect" rifle: When I moved to N Idaho I worried and bothered several local experienced outdoors men. They all said get a .300…the guys over 50 meant a 99 in .300 Savage, the guys over 40 meant a Model 70 in 300 Win mag and the younger guys all said a 300 Weatherby. Just so happened to be a the year after Remington did the 300 WBY in the Classic and a short run of 700 AS bead blasted blue rifles with synthetic stocks, very reasonably priced.
I set my 300 up with a 3×9 Leupold and used it for a couple deer and a black bear, then got the bug for a number one…. I used it on several more whitetail and a decent 6×6 bull elk, I should have hung on to that Remington. Just before I moved back to AZ, I set up a sporterized Mauser 30-06 with a 3×9 Tasco World Class scope and a Timney trigger (kids had come along by then and I was in a pinch) THIS was a great accurate rifle. My son used it to shot ptarmigan on the wing. Still have it. It has a 3×9 Leupold on it these days.
We Moved up to Alaska, in 2004, & wanted more than just the 30-06… I found a couple different 375s… Sold the Mauser Mark X; it's bolt had been abused and was rough. Found a beater Enfield 1917 in 375 WBY! It was an old guide's gun and has been used hard but this 1917 has an exceptionally smooth action.  275.00 Out the door, it has Williams irons. It has been drilled and tapped for 2 or3 different bases, ugly as sin, a little heavy, black painted hardwood stock. IT shoots like a house afire! At 100 yards 375 H&H and 375 WBY hit to the same point of aim. My Alaskan Uncle Hal Waugh, used a 03 Springfield in 375 WBY known as Big Nan. My 375 is "Big Nan Too". The last winter in AK an older friend wanted to do a ATV hunt with me. He recommended a 338 or 300 WBY with a slick barrel and good scope for use with a Kolpin gun boot. I lucked into a CRF SS M70 in .338 win mag for 600 bucks with rings…3×9 Leupold. also found a tang safety 77 magna ported and camo painted, for my son, it had  3×9 Leopold.
Back in AZ, I wanted a light versatile rifle in .308 I found an older like new tang safety 77 International. I Love the balance and looks. very light and handy almost as handy as my 600 Scout. I wanted a 2×7 Leupold this time. I found that they had a new 30mm version with illuminated reticule… a beauty! I think I have found my natural pointing, all around handy rifle for the South West.
================================================================
The second most naive comment that I have ever heard in a gun shop: "Python"…is that is good as a Taurus? The Python was/is the ne plus ultra of revolvers. By age 15 I wanted one, but knew I would "settle" for a S&W M-19…My best friend saved his hay money and went to the Rifle Ranch and bought a beautiful blue 6″ Colt Python…I was smitten.
https://www.facebook.com/AmericanRifleman
My M-19 6″? I bought it used for 200.00, still got it.
=================================================================================================
I have been wearing a Versa Clip n pancake holster all summer, I have carried either a 1911, M&P Shield of a XD 45. I have used these both with the holster outside; for working around the shop and farm. And inside the waistband for going to town or anytime more discrete carry is desired. Typical for N Az today started out fairly mild, I had my compact XD45 on outside with a cover shirt un tucked it hid it well. after 1100 Am it was too hot to continue this way. I hoped in the truck used a penny to unscrew the chicago screws and switched the clips back around and tucked my 45 and Versa Clip inside the waist band , un-tucked my tee shirt and was good to go for the rest of the day.
I have been toting this XD45 compact off and on all summer. I alternate between this and a new M&P shield (When I am lazy) or one or the other 1911s(I like their very familiar feel and flat as a book properties…. longest stretch ever not toting a .44 or .45 N frame or Blackhawk everyday… This is a tad wider that my 1911s hides easier though with it's short grip frame. I appreciate it's 11 round s of 45 HPs on tap and carry a 13 round spare. the magazine's grip adapter on the spare mag, makes this gun handle and look just like the service model.  I like that I can feel the striker and the loaded chamber indicator as I pick the gun up. The trigger is superb. I would like a set of tritium's on this, otherwise it is perfect as is.
—————————————————————
Good Survival Mindset article by Ed Head read it here;
http://www.downrange.tv/blog/mindset-the-zen-of-the-flip-flop/16918/
———————————————————————————
————————————————————————–
Saint Patrick's breast Plate a prayer for protection.
Christ be with me, Christ within me,
Christ behind me, Christ before me,
Christ beside me, Christ to win me,
Christ to comfort and restore me.
Christ beneath me, Christ above me,
Christ in quiet, Christ in danger,
Christ in hearts of all that love me,
Christ in mouth of friend and stranger.
The term immediately jumped into my head when we strapped this chest holster on the first time this carved holster
—————————————————————————————
———————————————————————————–
Tuesday, August 28, 2012 7:50 AM
Rob,
I want to say thanks to you for a couple of things.
First and foremost, thank you for all of the wonderful mag pouches you provided to our Vets
Carbine Class at Gunsite.  As one of the instructors that worked the class I greatly appreciated
your generosity for making such a donation to support our Veterans.  I was also able to be
fortunate enough to utilize one of the pouches for the entire week and was very impressed with the
quality of it.
I also had the opportunity during the week to speak with I——–, who spoke very highly of your
gear.  It was through his recommendation coupled with the example I observed in the magazine
pouches that I spoke to him about acquiring a holster for a 1911 with mounted light.  He was able
to facilitate that and I have been using it regularly for the last few weeks.  So far I am very
happy it with it and really like the way it rides, keeping the pistol up tight and close.  Thank
you again for providing those products.
In all I am very impressed with both your products and your support of our troops.  I am confident
that I will be acquiring more of your products for future use and will be recommending them to
others.
Thank you and stay safe.
John H
Paperback, and very affordable:
http://www.gunblast.com/Sixguns.htm
Read it!
…You will be glad that you did. We make nothing from this, but I wanted to get the word out that it is available.
Also, with the help of John Taffin, we hooked up the fellow doing the reprinting with Ted Keith, so that the family would benefit financially from the publishing of this book, even though the copyright had expired. I told the publisher that I would only do a review to promote the book under those conditions, and he agreed that it was the right thing to do. This way, everybody wins!
Jeff Quinn
—————————————————————–
Big gut causes hang over…all too personally familiar;-/  The Cattleman will solve that. With a hammer strap  you can sweep your hand up as you draw and clear the snap and leather in one movement.
Shoulder holster: we make them for deployed GIs too many Don Johnson/Walter Mitty wannabe buy these thinking that they too can hide a service size auto under a sport coat and look great while doing it…I have released shoulder rigs twice and both time it came with a spate of weirdos…so, I don't .   If your a big guy a shoulder rig will slow you down and probably cause the double grab to happen one has to fish the gun part way out with the finger tips and then re acquire a firing grasp on the gun…don't ask me how I know… high ride cross draws can be just as much of a problem for some big guys.  Forward rake in front of the hip for field and competition use.  & behind the hip for concealed and everyday work carry.
For me and many other full figured outdoorsman, carrying the gun over the strong side kidney is the best way to go.
——————————————————————
From my friend & long time customer Mike Bane:
Finally, I'd just like to give a shootout to Rob at SIMPLY RUGGED Holsters for his superb Cuda Holster.
Michael Bane's Blog
————————————————————
I have never liked soft deer or suede lining. Skeeter Skelton didn't either, and I always try to take his advice on gun & gunleather.
Q; Why did yiou start offering lined holsters?
A: I surrendered to the demand, I am tired of explaining why it's not needed. I still think it's coal to Newcastle on a fitted holster.  I thought well , OK guys with an nice old Colt Python of New Frontier…interestingly enough, the main purchasers of the lined option are  owners of the plastic Judge…
Last winter, while talking with John Bianchi, I asked his opinion about lined holsters. (keep in mind his old company, Bianchi International, sold thousands of suede lined holsters) he said I no longer like it, I have seen what the soft suede does to a gun's finish over the years and have come to prefer unlined or hair side out, hard,  smooth linings. This is how he currently offers his holster the flesh or suede sides laminated back to back so the the harder smooth finish is molded to the gun. I like that as well. I  now offer lined holsters.
———————————————————-
"Outside the beautiful old county courthouse in Victoria, I spotted a deputy wearing a tooled brown leather duty belt and packing an ivory-handled 1911 pistol. In a world of black plastic service pistols in black plastic holsters, it was a refreshing sight for this old traditionalist. Hell, I was packing a six-shooter, myself."
Massad Ayoob While visiting Texas…
==========================================================================================
July
Current exotics
WOW where has the time gone?
The addition to the shop was finished in late May. More to heat and cool but we finally have enough room to move around in. We have come a long way from the counter top to the 10×12 shop to this 1,600 square foot shop and office.
Building holsters testing new ideas discarding some advancing with others…
Added Cold Steel Knives to the store page
Adding and constantly up dating the new Sale Page. It has replaced the Gear to Go page. It is far easier for me to manage and more conventionality located. it is finally performing like I had hoped: quick access for you folks to our products.
I tried to add up the verity of holsters, gun models, barrel lengths and other options… I quit at 3,500…I know there are more possibilities. This is one of the reasons why we don't stock every possible configuration ready to ship.
I am enjoying the Surf & Turf Holsters… adds a little verity to my day. The Wildebeest, sent as a sample by my supplier, has turned out to be a great addition to our line up of hides.
The Shootist's Holiday in June… Met old friends made new friends tried out some interesting and fun guns: briefly owned a BFR in 475 Linebaugh…already miss it, but a good man has it now. Picked up my second Milt Morrison tuned N frame, this a older 625 4″ in 45ACP runs slick as snot.
Hot summer here dressing around a 1911 is a challenge but one can with a proper holster and a un-tucked shirt.
Jan found this John Taffin article from a few years ago:
John Taffin
When Ruger informed me they were shipping a pair of new candidates for the title of Perfect Packin' Pistol, I turned to Rob Leahy of Simply Rugged Leather for suitable holsters, who I "discovered" at one of the sixgun discussion Web sites. An order was placed for two of his pancake style holsters for the Ruger 2-3/4″ Alaskan and the 4″ Redhawk both now being offered in .44 Magnum.
http://findarticles.com/p/articles/mi_m0BQY/is_12_56/ai_n56225314/
 May 6th
We been very busy updating the new store page ironing out the wrinkles. Adding onto the shop adding some new equipment found a 80 year old Campbell Randall belt strap cutter that was refurbished and just started making some very nice, perfectly true belts.
Speaking of belts: I have succumbed to the requests to make two piece laminated belts. I built one for myself several months ago. I use it daily. Took it through Gunsite's Carbine Course Still using it the tan color continues to mellow that belt is standing up and  works great. Now you have a couple choices in belts.
GUNSITE Old lessons re-learned.
One of the lessons I learned , very quickly: I didn't need to have the chest pouch on for the class & it really got in the way for most things, like prone etc. I quickly switched out to a couple single mag pouches worn directly on my belt: the .223 pouch was proven yet again. I will be offering these for Surefire's excellent 60 round magazine soon. With a couple of the SR 60 rounders on a belt and one in the gun a person is ready for most anything an AR can handle.
Most of the guys that could, quickly switched out to lighter gear
Me and and old high School friend David Sterin. He was one of the excellent experienced instructors.
===========================================
Feb 3rd
Tools for fools; Small of the back (SOB)holsters. They seem like a good idea. But they allow the gun to print easily, you cannot see if the gun is exposed due to a clothing malfunction. They cause you to take a weak grasp of the pistol. Knuckle  to the torso designs will cause you to drag the muzzle across your spine and lower vital organs as you are drawing. SOB holsters are inherently weak and less than optimal for defending your weapon from a snatch attempt. One of your first things to do during a gun grab attempt is the pin your gun into the holster, while you spin your body away from your attacker. with an SOB holster, You will be literally fighting with one arm behind your back. The draw, the muzzle should be oriented laterally during the draw you won't be crossing any parts of your body as your brain sends the signal to press the trigger to your finger. Carrying a hard metal object over your spine is a bad idea. Dean Speir wrote and excellent article on the subject titled "P-a-r-a-p-l-e-g-i-a" Many store clerks consider the SOB design as a viable option as they are on their feet all day. Unfortunately, the SOB holster is very easily spotted if a person stoops to pick up and object or turn and reach for an object drawing one's clothing tight or even exposing the pistol. Again the gun is in a very hard to defend position. Strong side just in front of or just behind the hip is a superior way to carry.
=============================================================================
1 Feb 2012
I made this from a piece of Alagator leg overlayed onto a basket weave stamped Cuda.
I sent it to Jeff Quinn for a review.  Jeff's article on Gunblast.com does say something about a new SIG 1911, but really it's all about my holster…http://www.gunblast.com/SIG-Scorpion1911.htm
=========================================================
Diplomatic Carry  by Alan Korwin
After a hard fought battle to get shall issue here in AZ, many of us in a pro gun civil rights think tank were pretty happy with what we had accomplished. Alan Korwin was not! He stated then, that he would not rest until we had constitutional carry in Arizona.We have it. Now, he steps further and it's time has come: Diplomatic Carry.
The Second Second Amendment
by Alan Korwin
The Uninvited Ombudsman
Officials travel armed. When a contingent of our officials visits any other country, they bring armed personnel in classic right-to-bear-arms manner. Life is dangerous and the ability to protect yourself is a reasonable and prudent thing, a fundamental human right of existence, a moral imperative. So they go armed. It's only rational. Hillary and similar bring along enough firepower that if some of their group go one way while some head off in another, they're both covered.
The same is true in reverse. When an ambassador from Trashcanistan comes to the United States, discreetly armed bodyguards accompany the party at all times, "laws to the contrary notwithstanding." That's lawyer-speak for "their right to carry supersedes any other rules," or in plainer English, "We're above those laws." The ambassador might decide to personally carry too. I'm guessing Hillary does not.
There's this whole "second system" of gun possession and carry here domestically, another layer of rules on top of the common ones you must follow, operating quietly with people in the know cooperating.
Where are the laws for this exception to every gun law on the U.S. books? How does this special class of people exempt themselves from laws controlling the rest of us?
No one is harmed by their exemption. In fact, community safety increases, because assaults on those armed people are naturally deterred, even defensible if needed. Should we the people maybe have Diplomatic Carry too? Is a diplomat's life truly at more risk — or worth more — than any "commoner"? How does this comply with equal protection under the law?
Local authorities understand implicitly that these armed folks aren't going to randomly shoot people, or settle arguments with gunfire, the same as you and me when we're armed. They enjoy proper respect (even if they come from regimes that don't deserve it). We on the other hand have rights denied haphazardly, even with Constitutional Carry. As good as it is, Constitutional Carry is not enough.
Americans need and deserve the next step, Diplomatic Carry.
The body politic moves slowly. After several decades of experience, police nationwide understand and operate just fine within a framework of millions of people traveling armed. As the number of people carrying arms for crime control has increased, assaultive crimes have decreased. The media generally calls this "a surprising decrease in crime that has the experts baffled." All these people are walking around armed, expressly to forestall crime, and the media can't understand why crime has dropped. But I digress.
Oh sure, armed forces within the U.S. — from local police to secretive agents our government is now filled with — keep a watchful eye on the armed diplomats, as well they should. They also provide backup in the event of need. The same as for us.
But in the big picture, diplomats have less need for an ever-present armed escort than the public. A rare few diplomats face death at the hands of the mobs. Thousands of citizens are murdered each year. Who needs protection more?
The freedom of Diplomatic Carry, a concept many of us can easily grasp, is mind boggling to the great unwashed. So insulated from any truth about firearms, victims of television and the government-run school system, they have imbedded ignorance that is hard to shake. Destructively misinformed kids and teachers compound the problem. I digress again.
Now, Diplomatic Carry is not going to happen overnight. Many voices will be raised in objection to such freedom.
And unfortunately, some opposition will come from people who consider themselves firearms enthusiasts. Establishing everyone's uninfringed freedom to carry is scary, at least to some. But that's OK. Real freedom is a house high on a hill.
Diplomatic Carry is a paradigm shift. A window into a world that could be, and ought to be, a lofty goal. Your right to your life and its protection cannot morally be denied. It is denied only by force, and there is only one viable countermeasure to force unfortunately, in this best of all possible worlds, and that's countervailing force. I don't like it, but there it is.
Diplomatic Carry is a new level of autonomy, of personal sovereignty. It raises the bar. In this country, the people are the sovereigns and the government is the servant. How do you justify the servants carrying arms if the masters cannot?
The only consistent position for free people to take is this:
Anything short of Diplomatic Carry is infringement.
I am in the process of dissecting the legal framework that enables Diplomatic Carry, and modeling an approach for extending those principles to the public. Conceptually this is sound. Pragmatically it is an uphill climb, but as Americans we know that anything can be climbed. I'll have early results soon in my blog, PageNine.org. Sign up to stay informed.
Copyright 2012 Alan Korwin
http://www.gunlaws.com
Permission to circulate granted
=======================================
 From a retired Sheriff friend of mine great story, great gun and great old Gunleather.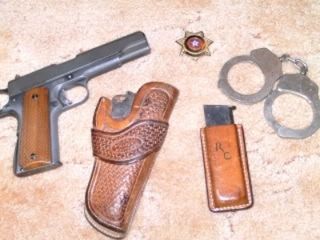 I came acoss an old 1911 and holster that I purchased in late 1989 or early 1990.
This old .45 and holster belonged to my boss and mentor, Sheriff George Wayman. Sheriff Wayman was not a 'gun' person. In fact, he seldom ever carried one on his person and when he did, it was usually a .25 auto in his hip pocket. However, he was a vetern of WWII and Korea and was familar with the 1911, having used it in both conflicts so it was not unusual for him to purchase one when he joined the Osage County Sheriff's Office in 1960. It rode under the front seat of his car from then until he retired in 1989. I bought it from the local pawn/gun store where Sheriff Wayman disposed of it upon retiring.
The .45 is a 'hybrid' of sorts. It has an Ithica slide, an A.R. Sales company, So. El Monte, Ca frame and a mixture of 1911 and 1911A1 parts. Research has shown me that A.R. Sales did business from 1968 to the 1970's dealing in military surplus firearms.
The holster, as some of you may recognize, is an A.W. Brill, Austin, Tx. One of the popular holster makers for southwestern lawmen from the 1930's thru the 1950's.
Not thinking much about what I had purchased, I replaced the plastic military issue grips with wooden panels and carried the pistol until 1997 when I was elected to my first term as Sheriff.
(Since I was in the office more than the field, I bought a LW Commander and a Don Hume 'paddle' holster.) I retired this old warrior and holster to the gun safe and never thought to question Sheriff Wayman about the pistol or holster.
===================================================================
I have been making some mixed media type holsters cow and croc horse and shark etc. very fun great brain stimulus after 26,000 holsters I need to get excited about the NEXT holster…this is one way I do that. Still a pleasure and still a job full of happiness for me. great customers great employees and friends working with me. and my wife, Jan, she holds this whole shebang together and keeps all the T crossed and I's dotted.

=======================================
Attack Monkey Media Gets it wrong every time. Free Nations, formally crushed under the hand of the Soviet Empire Know who saved them. While here at home, Ronald Reagan is forgotten & ignored. His tactic employed against the Soviets- convincing the Saudis to keep oil prices low, there for devaluing in the main export asset of the USSR, was brilliant and it worked. We could do the same thing with our own and Canadian oil to bring the terrorist sponsor nations of OPEC to their knees. We have the resources to do this, but lack the will. If I hear another Lib Media type say but it will take years-… you have been using that argument for years…ANWAR would be online if we had gone ahead in 2005 when W tried to get it opened but McCain stopped it with his friends across the aisle.
http://curmudgeonlyskeptical.blogspot.com/2011/11/ex-commie-slaves-honor-reagan.html
====================================================================
Very frustrating trying to find a pro-gun merchant services company that is really in business and offers any service. We have been using paypal for years as a temporary measure until we could find something more suitable. Fact is I don't like them. BUT, have checked in to many card processing companies they all are tied up with or a division of either Chase Wells fargo or Cit bank all of which support anti gun positions and fund abortions. I just can't bring myself to go over to them. If you absolutely don't want to use pay pal we have another small processor that we can manually use but it won't integrate with our website.
====================================================
Some new gear for a G-20. Shark trimmed Cuda with tan basket weave and dual CID magazine pouch.
This is a simple, rugged way (Couldn't help myself) to dress up a working concealment holster & add a little toughness to the exterior. The pancake design rides high and pulls the grip frame in close for better concealment.
=============================
Fake, Feel Good, Shallow, Abitrary "Security" At Anne Coulter's Speech
I took my family to see Anne Coulter last week. The venue was a Jr. College. Lots of parking lot type "security" types one badge toting Chief of security all un armed along with several scattered local police officers. Upon approaching the door we were informed that they wanted to search my wife and daughter's purses. I asked why; they responded that Anne had some security issues and wanted to make sure no guns were being carried in in purses. We refused and walked away. No mention was made of looking at me or even asking me if I was armed… I found the VIP entrance and went in there, no questions asked.
Anne certainly has a right to her own security, but not at our peril.
\http://www.guardian.co.uk/world/2011/sep/28/al-qaida-ahmadinejad-911-conspiracy
Al-Qaida calls on Ahmadinejad to end 9/11 conspiracy theories
Terrorist organisation's magazine reportedly says it is 'ridiculous' for Iran's president to blame the attacks on the US government…
Build what they need, not what they want.
An older version of the Chesty Puller: A lot of folks want a shoulder holster, but this will serve them better in the outdoors.
"As a rule, end users are generally not designers, and are therefore limited to describing their needs in terms they know and understand."
From Magpul's excellent website. They make great simple rugged gear, too.
http://www.magpul.com/
=================================================
From a friend: Christ loves Klingons….ever fearless….ever faithful.
============================================
Best way to ruin a holster rub sno-seal into it until it is limp as an over cooked noodle.
======================================================
S&W Governor: YES, we have been making holsters for it!
Gunblast Article on S&W Governor
My friend Jeff Quinn of Gunblast.com reviews Ruger's newest compact 40 auto. Made right here in Prescott, AZ.
Gunblast.com has been and is one of my favorite places to get good gun and gear information on the web. Jeff mentioned my holsters in an article 8 years ago and that really helped kick start my holster making business. I enjoyed gunblast before that happened and still like reading Jeff & Boge's articles. Leroy Thompson, Mike Cumpston, RK Campbell and other interesting authors appear there as well. You might notice a holster of mine mentioned every now again again. To me, that's just gravy on the french fries.
Boge Quinn, a true artist in many forms, sings and plays bluegrass guitar wonderfully.
Boge recently updated our logo;
One last thing; Boge Quinn is getting married today!
Simply Rugged Holster's Facebook page. Look here for new products, links to articles and discount codes.
Jan's article on women and guns. There is also a discount code for free inside outs with a holster purchase.
Rick Hacker's article on Single Action Self Defense. Nice pictures of one of my carved Sourdough's and one of Rick Gettlein's superior floral carved 120s.
Gun holster Blog:
Subject: 1911 Cuda
Rob,
This has been a long time in coming but I just wanted to let you know how much I appreciate your Holsters. Prior to deploying to Afghanistan's Helmand region I received one of your Cuda's (with the IWB straps). I was immediately impressed with the simple and robust design. The fit was excellent for my 1911 and I wore the holster from the day I departed until the day I was sent home. Not once did I use my very nice drop leg on this deployment as we found ourselves in and out of vehicles and rucking for long distances. Keeping the pistol on my hip was far better than on the thigh and suited our operations. In late October my team and I encountered an I.E.D. which crippled sixty percent of our operators. I took blast frag through my right arm and shoulder, right flank, back and stomach as well as up and down both legs. The hole ripped into my stomach was greatly reduced as my Cuda and Colt Commander took the brunt of the blast. I sent in the holster and you can see the damage to it, but it still works just fine. I wish I still had the pistol to show you photos of that as well. Again Rob I want to thank you for supporting the fighting men and women of this country and for making "Simply Rugged Holsters"!
Semper Fi
Cpl D 0317


you can follow us on face book now…
http://www.facebook.com/#!/pages/Simply-Rugged-Holsters/142427562455074
http://www.americanhandgunner.com/simply-rugged-holsters-2/
So, my favorite uncle comes up to do the final planning for an elk hunt.
He has an old Mutton Chop shotgun case along. My curiosity is peaked, but I remained polite and let this just happen.
TYerry smiles and says I picked this up it's old but I think you might like it.
Opon opening the case I see not a shotgun but two haves of a lever action rifle. Turns out it's a early Marlin 20″ 303-30 with checkered forend & pistol grip stocks. Very nice!
This old Marlin was built around 1902 it's finish is worn to a nice patina, but the entire gun appeals to me. It is half round to octagon, with the rifle forend and crescent butt. The delicate wave carved under the pistol grip REALLY speaks to me of that era of craftsmanship.
It is on m y special gun rack along with my brother's Savage 24, and my great grand dad's shotguns.
A new design from Rick Gittlein's fertile mind: Northwest Style native  totem carving:  This Eagle pattern fits 2″ J frames 130.00 shipped with the inside the waist band straps.
The Original Comes Home
by Rob Leahy
I purchased a Roy's Original Hidden Thunder holster for my 4″ 1955 Target and 29-2 in 1982. This was the first holster I owned that allowed me to conceal an N frame in the Arizona heat easily and comfortably.
Several years later, I was temporarily without a 4″ N frame and loaned my Roy Baker holster to a good friend, Elliott.
He mistakenly believed that it was a permanent loan and a few months later he sold it to one of his brother in laws. I had in the meantime discovered another 29-2 4″ and wanted my excellent concealment and field holster back. Elliot was somewhat taken aback, felt terrible, and soon discovered that his scoundrel of a BIL refused to let loose of his new found FAVORITE holster. (I shouldn't be TOO hard on him: he recognized a good deal when he saw it)
In the intervening years, Mr. Baker passed on to his great reward and being pre-web days, there was no other pancake rigs available to me. Having no recourse, I designed and built my own. Knowing I didn't have the skill to fashion a thumb break and not really liking them, I covered the hammer to project my side. Having read enough Cooper and Bianchi by then and having used several other types of holsters, I decided that a covered trigger guard was a superior idea. This was around 1991, I have built several other designs, but always end up "coming home" to this simple pancake. I soon found myself building these for my friends and shooting buddies. I was working in several different retail sporting goods shops.  I often found myself building Pancake holsters and Pocket Holsters for my customers when nothing off the shelf or in the current catalog would suffice.
I have been blessed and encouraged by several good people that not only prompted me to start building full time, but placed orders and kept me going. They often asked me to stretch my meager skills to fulfill their desires, along the way I have had some good tips and lessons from other leather artisans. It has grown from a hobby gone wild, to a one man shop, to the current shop of several artisans working with me to meet the demand for our simple, rugged holsters.